The Integrated Touristic Development
The development concept for phase A is a low density lifestyle destination resort of the highest
quality appealing to a cross-section of both domestic and international visitors.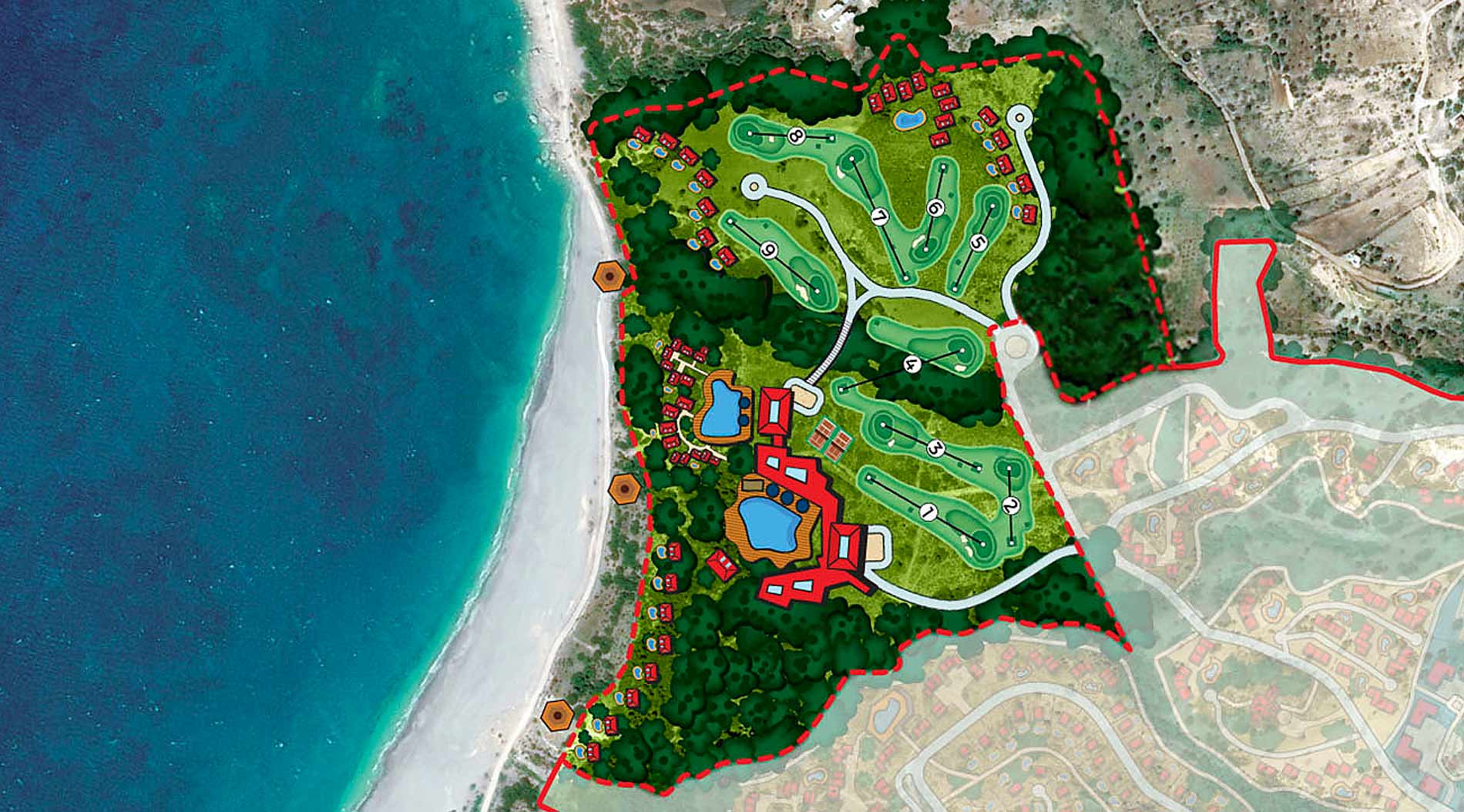 The ultimate in luxury, this exclusive development will incorporate a combination of lodging, residential and amenity provisions that will blend harmoniously into the pristine landscape affording both amplified and exalted sea and golf views. It will be an integrated landmark, master-planned in continuity with the Upscale Village Development (Phase B) encouraging a sense of identity and community within a unique coastal setting.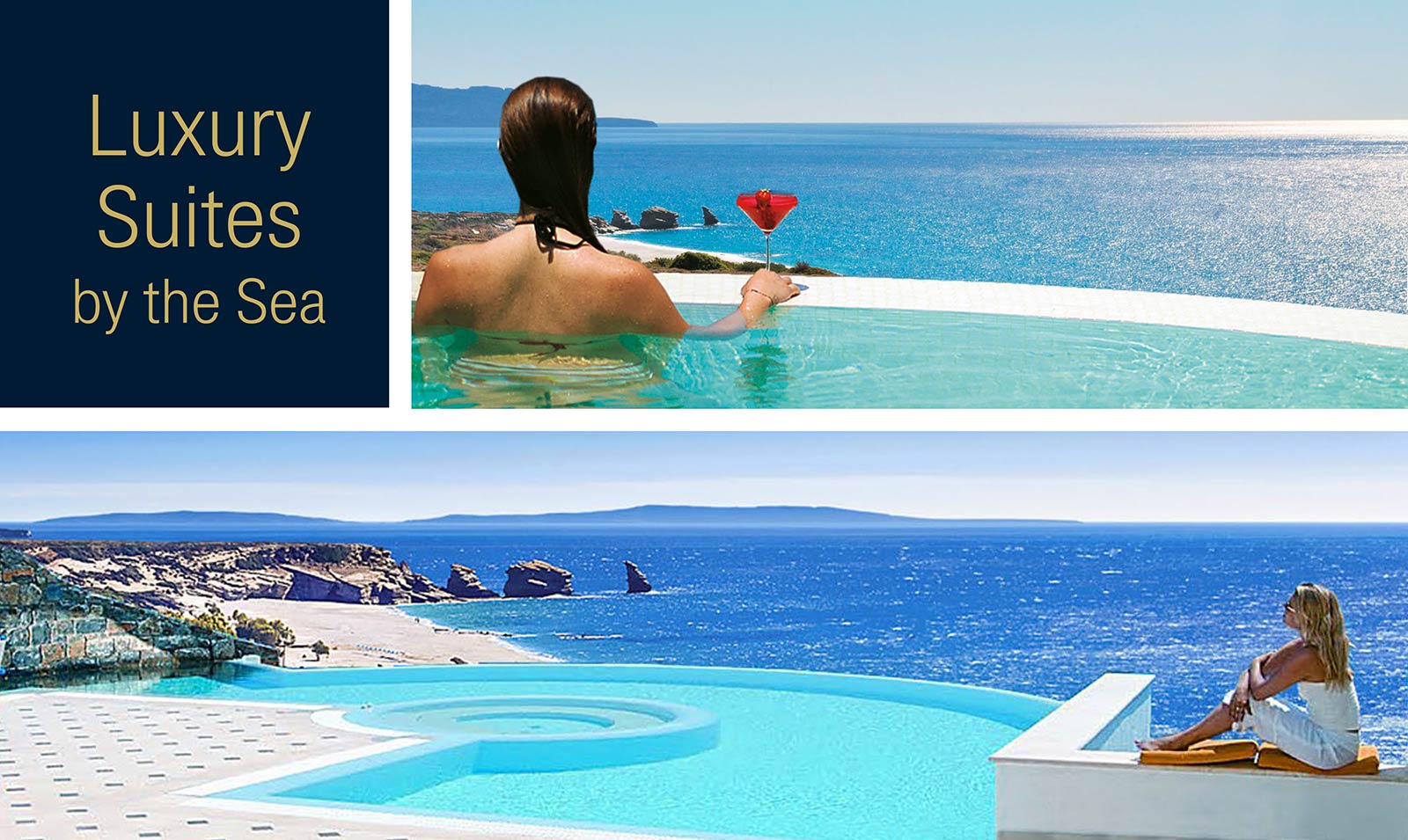 Phase A is located along the beautiful unspoilt beach of Triopetra and has an area of 276.572sqm. The build-up area will cover 29.834sqm with a proposed five-star international chain hotel. The minimum room size will be 55sqm. Given that the hotel is positioned on what is effectively a terrace above the beach, more than half of the rooms will have their own infinity pool overlooking the spectacular shore with direct views onto the blue of the sea.
The proposed real-estate part of the development has a build-up area of 12.786sqm. Upscale Branded Residences, ranging from 250sqm to 550sqm, will be available for purchase. These Branded Residences will have full access to the finest facilities of the adjacent hotel with an extensive list of amenities and services. All demands will be met and exceeded through the property management which will be under the full responsibility of the chain hotel. Although situated close to the main lodging, these residences will be sufficiently detached to ensure privacy and exclusivity. Phase A will be a peaceful hideaway offering exceptional quality of life and personalised attention.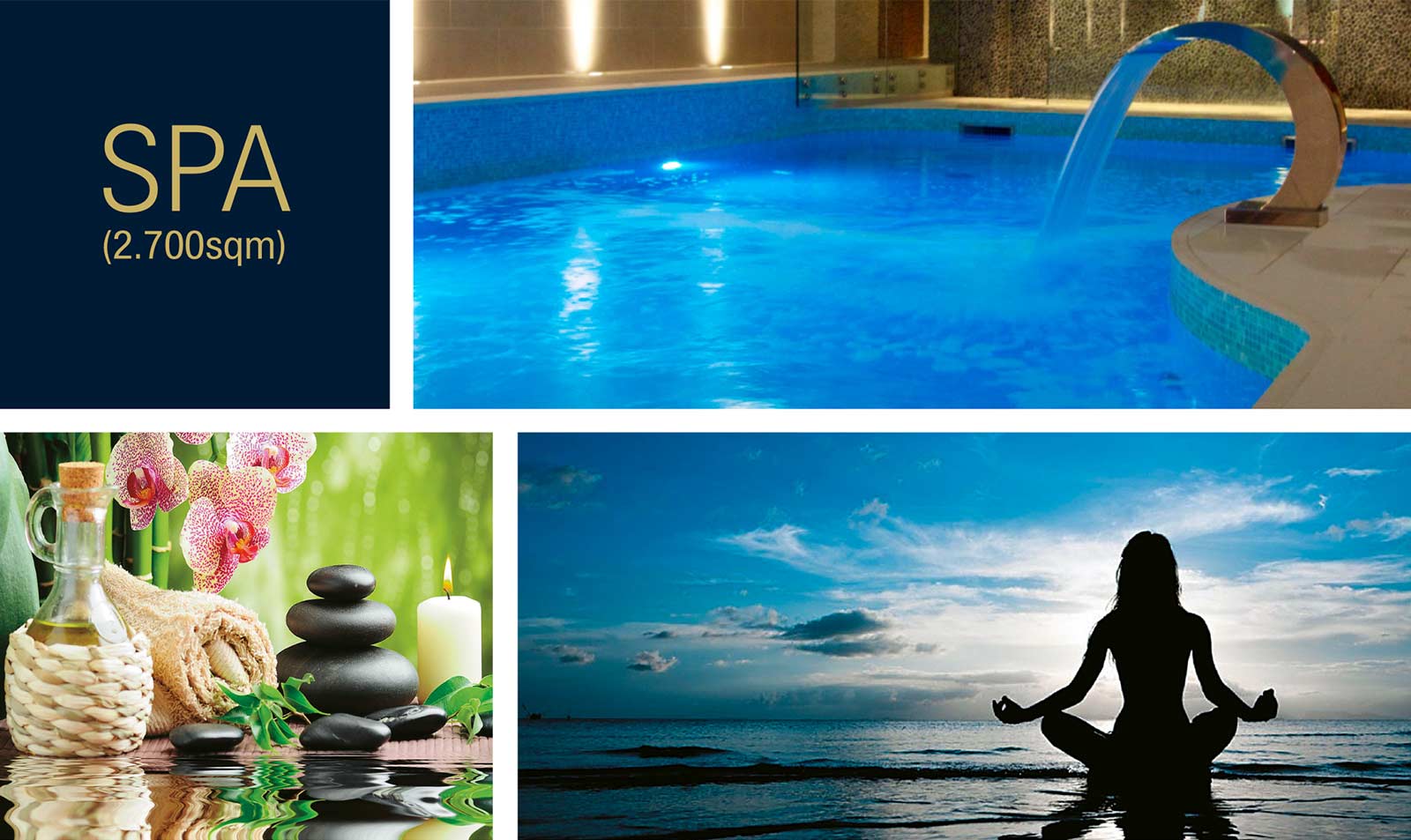 Set against the confines of a luxuriously serene setting, a world-class wellness Spa will be housed in a separate building (2.700sqm) with its own distinct identity. It will comprise of 10 treatment rooms, a relaxation area, an impressive fitness area, an indoor pool, a dance/yoga studio, a hamman and jacuzzis. A wide range of holistic, rejuvenating and beauty treatments will be offered using a variety of local products. An abundance of plants and herbs from the area are known for their therapeutic and soothing qualities and will be used for enhancing a unique Spa experience. An appropriate undisturbed outdoor space will also be provided for exercise, yoga, Tai Chi classes and relaxation. The aim is to create a timeless Spa within the healing powers of its breathtaking natural surroundings. Guests will be attracted to the hotel all year round in order to immerse in an ultimate Spa journey which will echo the locality and embody the culture of Crete.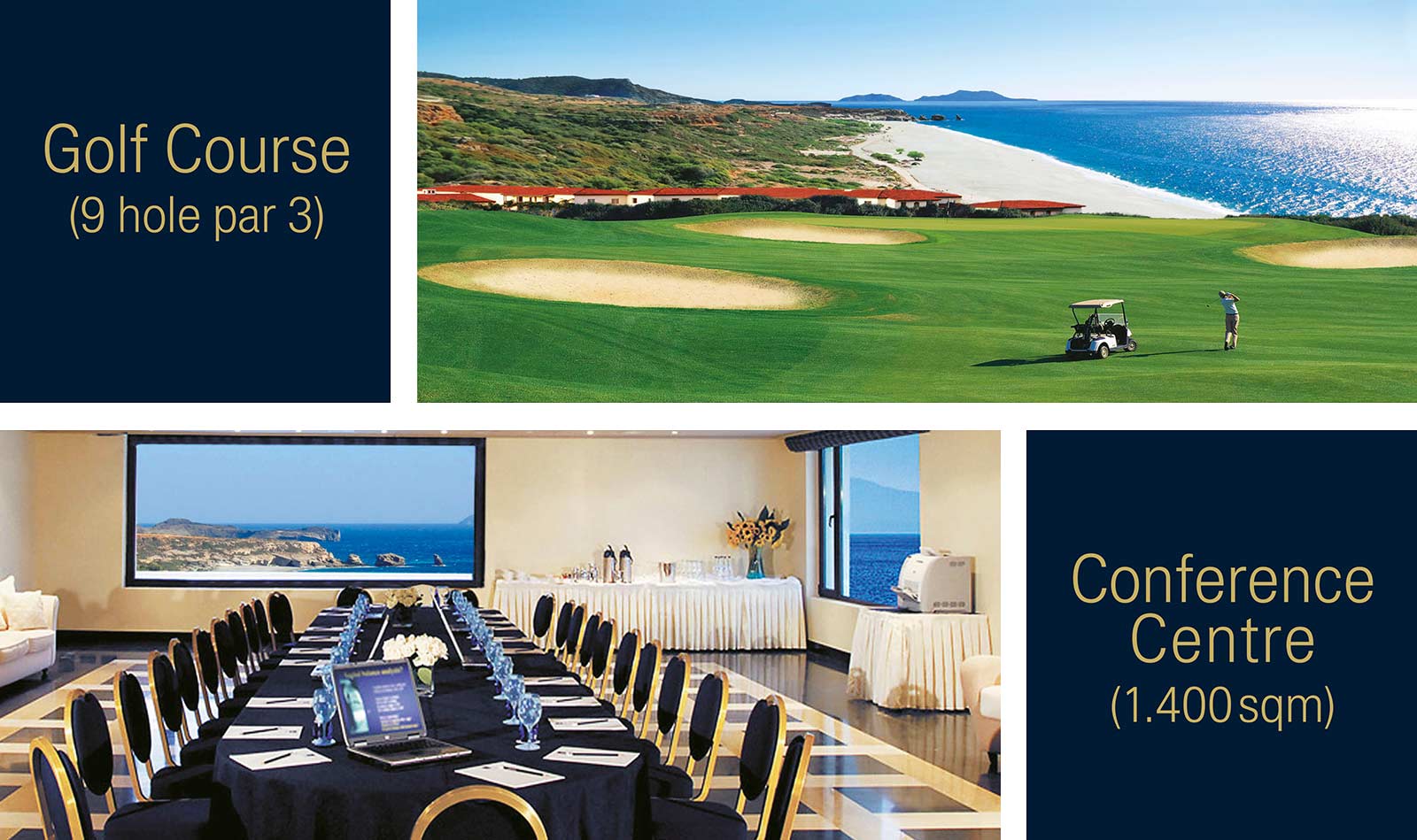 An Executive Golf Course (9 hole par 3) will add to the charisma and exclusivity of the overall resort. It will create an aesthetically pleasing 'green space' within the development slotting in seamlessly into the undulating backdrop of the spectacular Mediterranean. This idyllic combination of green and blue will enhance the unique physical setting and market positioning of both the hotel and the real-estate. Revenues will be generated on an on-going basis, including the low and shoulder season period.
A modest yet refined Conference venue (1.400sqm) will be situated in the hotel for the accommodation of corporate and social functions. It will include a main conference area and several flexible meeting rooms all equipped with the necessary state of the art facilities and technical support. The Conference Centre will aim at targeting high-level management getaways and celebratory events, both domestic and international, with a focus outside of the peak summer months.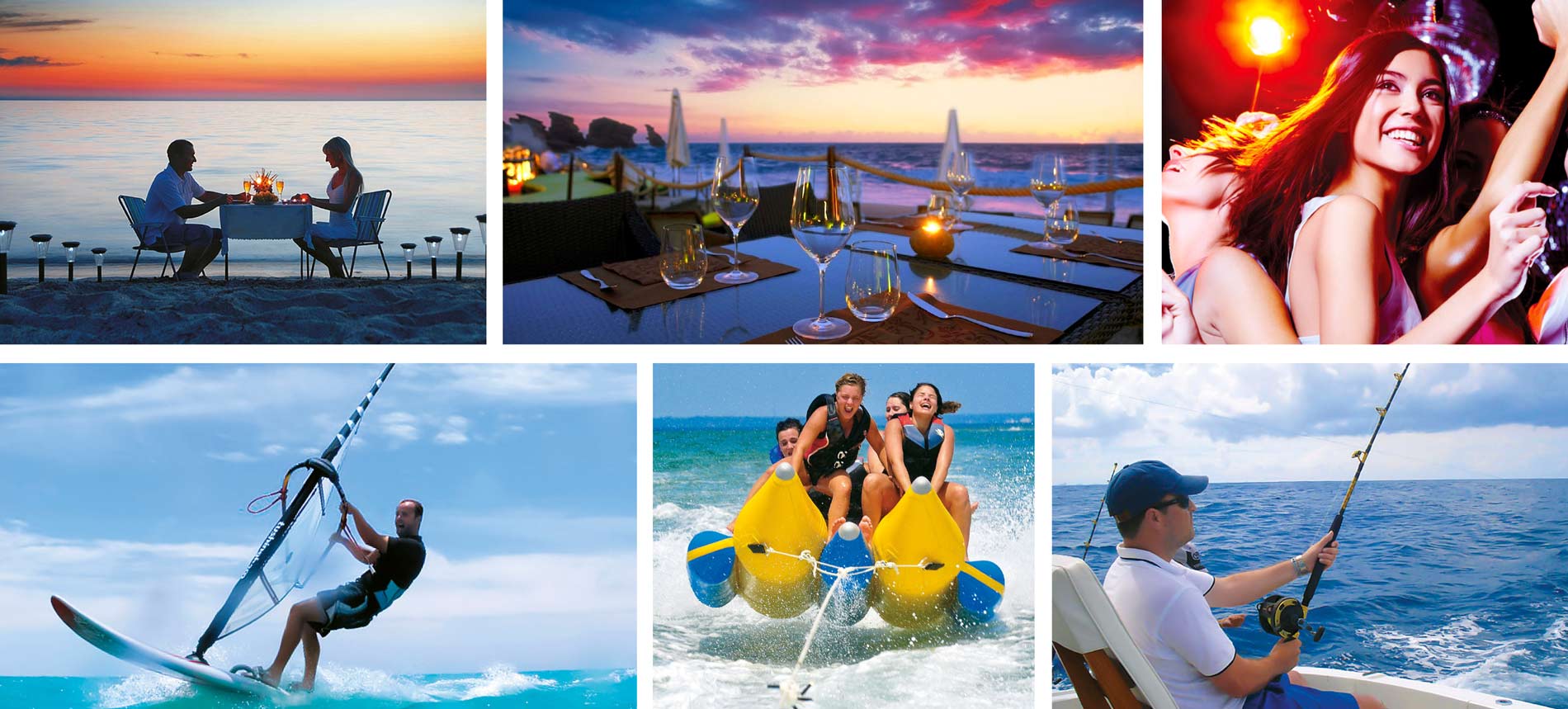 The principle outdoor facilities of the estate will comprise of three tennis courts; a large outdoor leisure pool with an associated children's pool; a lane pool with a more adult focus and a large number of infinity pools. The indoor facilities will include boutiques, a children's activity centre, a multi-media room, a cigar room, a lounge area and an entertainment venue.
A variety of restaurants and cafes will offer food and beverage inspired by the abundance of the area using fresh local produce. Service will be effortless within pleasant surroundings successfully capturing the authentic culture and simplistic cuisine of Crete.
Only a stone's throw away from the resort, the irresistible seashore will be easily accessible on foot, through landscaped gardens and in golf buggies, through dedicated buggy trails. A well-organised beach area will be dedicated to a variety of water sports, boating, diving and fishing. There will also be a jetty structure and a beach bar available for convenience.
Many activities, both indoors and outdoors, based on nature and tradition will be organised in cooperation with the Upscale Village Development (Phase B). These will operate all year long and play a vital role in providing guests with an enriched local experience. They will include impressive nature trails, hiking, mountain climbing, horse-riding, various farming and agricultural activities, pottery, traditional cooking, artwork etc.
Drawing upon a mix of markets - the upscale family as a core; Spa breaks; couples looking for a retreat; high-level conferences; celebratory events and special interest packages - will allow the hotel to draw demand for an extended period of the year with the ultimate goal to operate year round.
Addressing the issue of seasonality, the hotel will be designed in such a way, with a central core, that will enable the continuity of its function while other parts of the property are not being utilised during the quietest months of the year.
Emerald's main objective is to provide a low density retreat epitomising style, comfort and opulence during all seasons of the year. Triopetra is scenically located in the South of Crete, and actually in the Southern-most part of Europe as a whole, with an ideal year-round climate.